Start main content
History of the School of Biomedical Sciences
The School of Biomedical Sciences may be one of the newest Schools in both the Faculty of Medicine and The University of Hong Kong but it has more than a century of pioneering history in the development of modern medicine in Hong Kong and the scientific excellence that supports it. The history stretches back to 1912, when the Schools of Anatomy and Physiology were incorporated as Departments in the Faculty of Medicine. In that year, the Faculty succeeded the Hong Kong College of Medicine and became the designated premier founding faculty of The University of Hong Kong.
The two Schools moved into the Anatomy and Physiology Building of the University, located on Pokfulam Road, in 1917. In acknowledgment of the emerging importance of biochemistry in medical sciences, the University Council in 1960 passed a resolution to establish the Department of Biochemistry, with inaugural staff drawn from the Department of Physiology. The three Departments moved to the Li Shu Fan Building (5 Sassoon Road) in 1963 and then to the Faculty of Medicine Building (21 Sassoon Road) in 2002.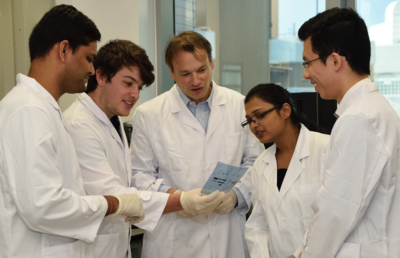 In 2012, the Faculty of Medicine launched the Bachelor of Biomedical Sciences programme, the first of its kind in tertiary education in Hong Kong. This programme is exemplary in the efforts to transcend departmental boundaries by encouraging collaboration in the delivery of teaching. This followed 15 years of focused efforts to integrate basic science disciplines into the system-based modules of the Bachelor of Medicine, Bachelor of Surgery (MBBS) curriculum.
The benefits of greater collaboration in talent and use of resources have become increasingly apparent in order for the Faculty to focus on research strengths and to support the teaching of basic sciences at undergraduate and postgraduate levels. This led to decisions by the Faculty Board and University Council to endorse the amalgamation of the pre-clinical Departments of Anatomy, Biochemistry and Physiology into the School of Biomedical Sciences, as of July 1, 2015.

The new School assumes a matrix organisation. "Research Themes" focus the research strengths of members towards interdisciplinary synergies and research excellence at the frontiers of biomedical sciences. "Education Divisions" delineate platforms of teaching expertise for the efficient dissemination of core knowledge in biomedical sciences so that learners develop into biomedical professionals, ready to contribute to the progress and delivery of medicine and healthcare in Hong Kong, Greater China and internationally.