Start main content
Back
Jun 15, 2022
HKU Biomed Entrepreneurship Talk Series (2022-06-15)
HKU Biomed Entrepreneurship Talk Series
Our school has launched the 'HKU Biomed Entrepreneurship Talk Series' which aims to stimulate academic's interest in translating their basic innovations to applications through inviting academics/entrepreneurs to share their experience with startups.
Date: 15 June 2022 (Wednesday)
Time: 4:00 – 5:00pm
Conducted via Zoom: https://hku.zoom.us/meeting/register/tJEtd-2vqT8jEtA7IoALVEAR-xqsS7bKrku4
Meeting ID: 950 0477 4984
Password: 667876
Title: Our Roadmap of Building A Regenerative Medicine R&D Business in Hong Kong
Speaker: Mr. Alan Pang, Chief Executive Officer of TGD Life Company Limited (www.tgd-life.com)
Biography: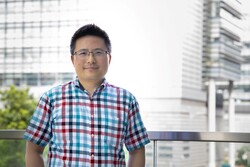 Alan obtained both his bachelor and doctoral degrees from the Department of Biochemistry, The Chinese University of Hong Kong. After that, Alan pursued his postdoctoral training at Eunice Kennedy Shriver National Institute of Child Health and Human Development, National Institutes of Health, USA and continued his career there as a Senior Research Fellow, Staff Scientist and then Laboratory Supervisor of the next-generation DNA sequencing core facility. Attracted by the opportunity of translating scientific knowledge into biomedical applications, Alan returned to Hong Kong and helped build and run a biotech company (TGD Life) to develop stem cell and regenerative medicine R&D business at the Hong Kong Science Park. On the side, Alan served on assessment panels to provide advice to local education sector on curriculum development and guest lectured at universities.
Abstract:
The discovery of the method of reverting terminally differentiated cells to a state of pluripotency paves the way for the development of advanced cell-based therapeutics. The technology can also be utilized to more precisely deduce drug responses and to identify adverse effects at the early phases of drug discovery process. TGD Life was founded to cope with a foreseeable increase in the demand for induced pluripotent stem cell (iPSC)-related R&D services locally and regionally. At TGD Life, we are also working to offer our solutions to bridge certain technology gaps that exist in the iPSC-based therapeutics development process. Hong Kong has every reason to and has what she needs in the development of I&T industries, especially biotechnology. In this talk, the speaker will share with the audience his story in the establishment of a regenerative medicine R&D company in Hong Kong.
ALL ARE WELCOME