Start main content
Back
May 05, 2022
Seminar (2022-05-05)
School of Biomedical Sciences is pleased to invite you to join the following seminar:
Date: Thursday, 5 May, 2022
Time: 9:00 am – 10:30 am
Via Zoom: https://hku.zoom.us/meeting/register/tJIrcu2sqDwoE9Vaneq9B8CKYeKi6AR0Se28
Meeting ID: 966 5446 7291
Password: 070378
Speaker: Professor Licia Selleri, Professor, Program in Craniofacial Biology, Institute for Human Genetics, Department of Orofacial Sciences and Department of Anatomy, University of California San Francisco
Title: "Making faces": regulatory dynamics of midfacial growth in evolution and disease
Biography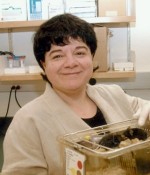 Professor Selleri is currently a Professor at the University of California San Francisco. She is a developmental geneticist with a passion for understanding the genetic and regulatory basis underlying tissue and organ morphogenesis during vertebrate development. Her laboratory has a record of continued productivity in the fields of mouse and human genetics, developmental genetics, transcriptional regulation of morphogenesis, and birth defects, combined with a proven ability to mentor and successfully train graduate, medical, and dental students as well as postdoctoral fellows. She aspires to shed light on how perturbations of these processes impact human development and cause birth defects. Prior to her current work, Professor Selleri was a postdoc at the Salk Institute for Biological Studies, La Jolla, California with a field of study in Molecular Genetics. She has obtained her MD in Medicine & Surgery from the University of Modena Medical School, Modena, Italy, and her PhD in Molecular Biology at the University of Modena, Italy and Erasmus University, Holland.
Abstract
Disruption of the dynamics underlying midfacial outgrowth result in craniofacial birth defects. In non-avians, the variable driving species-specific midfacial length is the maxilla of the upper jaw, while in avians it is the premaxilla. Avians have cleft palate in physiological conditions. We established regulatory landscapes that control different morphogenetic and outgrowth characteristics of midfacial elements in chick, mouse, and pig embryos, species characterized by different midfacial lengths. By combining genome-wide approached such as RNA-Seq, ATAC-Seq, and chromatin mark ChIP-Seq of embryonic midfacial anlagen, we identified genes that regulate maxillary-specific programs in avians versus mammals. One of these genes, encoding a homeobox transcription factor (TF), is expressed in the palatal shelves of mouse and pig embryos, but is not expressed in the palate of avian embryos. Mice with loss-of-function of this TF show cleft palate and stunted snout. Strikingly, children with a deletion of this TF exhibit high-arched palate and cleft palate.
ALL ARE WELCOME
Should you have any enquiries, please feel free to contact Miss Angela Wong at 3917 9216.