Start main content
Back
Sep 21, 2022
Seminar (2022-09-21)
School of Biomedical Sciences is pleased to invite you to join the following seminar:
Date: Wednesday, 21 September, 2022
Time: 9:00 am – 10:30 am
Language: English / Putonghua
Via Zoom: https://hku.zoom.us/meeting/register/tJEvcOmpqTwpGtZPQCqNpLqrXAlvp3JM651N
Meeting ID: 952 7017 7302
Password: 328380
Speaker: Dr. Jinyi Tang, Carter Immunology Center, University of Virginia
Title: "Mucosal Immunity: Game changer?"
Biography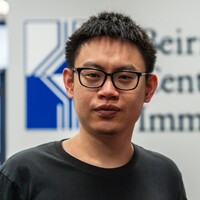 Dr. Tang is a Postdoc at Carter Immunology Center, University of Virginia School of Medicine. Dr. Tang received his Ph.D from Institut Pasteur of Shanghai. He worked as Postdoc in Dr. Jie Sun's lab since 2021 in Mayo Clinic and after then in University of Virginia. His research interest focuses on the antibody, resident T cell and B cell responses in the respiratory tract following respiratory virus infection or mucosal vaccine immunization.
Abstract
It is currently unclear whether SARS-CoV-2 mRNA vaccination elicits effective immune response in the respiratory tract. Here, we compared the SARS-CoV-2 S-specific binding and neutralizing antibody responses, and B and T cell immunity, in the bronchoalveolar lavage fluid (BAL) and blood of COVID-19 vaccinated individuals and hospitalized patients. Vaccinated individuals had significantly lower levels of neutralizing antibody against variants in the BAL compared to COVID-19 convalescents, despite robust S-specific antibody responses in the blood. Furthermore, mRNA vaccination induced circulating S-specific B and T cell immunity, but in contrast to COVID-19 convalescents, these responses were absent in the BAL of vaccinated individuals. Using a mouse immunization model, we demonstrated that systemic mRNA vaccination alone induced weak respiratory mucosal neutralizing antibody responses; however, a combination of systemic mRNA vaccination plus mucosal adenovirus-S immunization induced strong neutralizing antibody responses. Together, our study indicated mucosal booster vaccination is important to establish robust local immunity in the respiratory tract against SARS-CoV-2, including infection by Omicron sublineage and future VOCs.

ALL ARE WELCOME
Should you have any enquiries, please feel free to contact Miss Angela Wong at 3917 9216.