Start main content
Back
Mar 14, 2023
Seminar (2023-03-14)
School of Biomedical Sciences is pleased to invite you to join the following seminar:
Date: 14 March 2023 (Tuesday)
Time: 3:00 pm – 4:30 pm
Venue: Lecture Theatre 1, G/F, William M.W. Mong Block, 21 Sassoon Road
Speaker: Professor Lin He, Associate Professor and Thomas and Stacey Siebel Distinguished Chair in Stem Cell Research Professor of Cell Biology, Development and Physiology (And Affiliate, Division of Immunology & Pathogenesis), UC Berkeley
Talk Title: ncRNAs and transposons, unexpected players in development and disease
Biography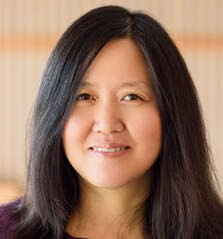 Professor Lin He received her B.S. in Biology from Tsinghua University, and her Ph.D. from Stanford University under the mentorship of Dr. Gregory S. Barsh. Lin was a postdoctoral fellow at Cold Spring Harbor Laboratory with Dr. Greg Hannon, before joining the University of California at Berkeley as a faculty in 2008. Currently, Lin is a Thomas and Stacey Siebel distinguished chair professor at UC-Berkeley, Biohub investigator with Chan Zuckerberg Foundation, and a HHMI faculty scholar.
Abstract
It is increasingly clear that the vast non-coding elements in the mammalian genome have the potential to regulate numerous molecular pathways in development and disease, yielding unusual functionality and gene regulation. My lab has focused on the functional characterization of microRNAs (miRNAs) and long non-coding RNAs (ncRNAs) in development and cancer, using an interdisciplinary approach combining mouse genetics, comparative genomics, cell and molecular biology. More recently, we also discovered cell-type and context-dependent expression of many retrotransposon-derived gene transcripts in a variety of developmental processes, particularly in mammalian preimplantation development. Hence, the non-coding genome harbors numerous functional elements in development and disease, playing a pivotal role in gene regulation and providing raw materials for genome innovation.
ALL ARE WELCOME
Should you have any enquiries, please feel free to contact Miss Angela Wong at 3917 9216.