Start main content
Back
May 10, 2023
Seminar (2023-05-10)
School of Biomedical Sciences is pleased to invite you to join the following seminar:
Date: 10 May 2023 (Wed)
Time: 4:00 pm – 5:00 pm
Venue: Seminar Room 4, G/F, Laboratory Block, 21 Sassoon Road
Speaker: Professor Jiguang Wang, Padma Harilela Associate Professor of Life Science, Hong Kong University of Science and Technology
Talk Title: Deciphering cancer evolution under therapy for precision medicine
Biography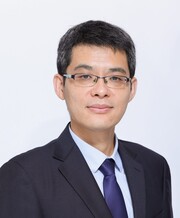 Jiguang Wang is Padma Harilela Associate Professor of Life Science at HKUST, with a primary focus on application of data science in biology and medicine. He completed his Ph.D. in Applied Mathematics from the Chinese Academy of Sciences and received postdoctoral and associate research scientist training at Columbia University before joining HKUST in 2016. Recently, his research has led to several significant contributions, including the characterization and clinical application of cancer evolution in pan-glioma, the discovery and elucidation of MGMT translocation and METex14 in adult diffuse gliomas, and the discovery of MAP3K3-I441M in Cerebral Cavernous Malformation and GJA4-G41C in Intracranial Extra-axial Cavernous Hemangiomas. He has received numerous awards, including the Precision Medicine Fellowship from Columbia University (2015-2016), the Excellent Young Scientist Award of NSFC (2019), the HKUST School of Engineering Young Investigator Research Award (2019), the HKUST School of Science Research Award (2021), and the Zhong Nanshan Youth Science and Technology Innovation Award (2021).
Abstract
Recent advancements in next-generation sequencing and data science are revolutionizing various areas of life science and medicine, including my research focus. I am dedicated to discovering and investigating genomic alterations that impact complex human diseases and relevant biological models by developing and applying computational methods based on statistics and machine learning. My primary goal is to bridge the gaps between data, bench, and bedside. In this talk, I will present the latest research from my laboratory on brain cancer evolution and precision medicine. While large-scale genome sequencing projects have uncovered the mutational landscapes of several cancers, how cancer cells evolve with and without therapy remains unclear. Using diffuse glioma, the most common and aggressive adult brain cancer, as an example, we aim to address long-standing questions regarding how cancer cells respond to therapy and how the founding somatic alterations drive cancer evolution trajectories.
ALL ARE WELCOME
Should you have any enquiries, please feel free to contact Miss Angela Wong at 3917 9216.