Start main content
Back
Jun 21, 2023
Seminar (2023-06-21)
School of Biomedical Sciences is pleased to invite you to join the following seminar:
Date: 21 June 2023 (Wednesday)
Time: 3:00 – 4:00 pm
Venue: Seminar Room 2 and 3, G/F, Laboratory Block, 21 Sassoon Road
Speaker: Professor John Pimanda, Clinical Haematologist, Prince of Wales Hospital; Professor of Medicine and Head, Stem Cell Laboratory, Lowy Cancer Research Centre, UNSW Sydney, Australia
Talk Title: Blood stem cell development and differentiation in health and in myeloid neoplasms
Biography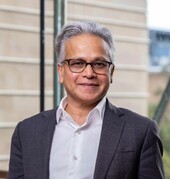 John Pimanda is a haematologist at the Prince of Wales Hospital and Professor of Medicine and Head, Stem Cell Laboratory at the Lowy Cancer Research Centre, UNSW Sydney, Australia. His research program is focussed on developing new strategies to improve patient outcomes in myelodysplastic neoplasms (MDS) and acute myeloid leukaemia (AML). Other areas of specific interest include embryonic blood stem cell development, and maintenance and differentiation of these cells through life. He graduated in Science and Medicine at UNSW Sydney. Following his clinical training in haematology and a PhD in von Willebrand Factor multimerization under the supervision of Professor Phil Hogg, he continued his research training in molecular haematopoiesis at the University of Cambridge, as the RG Menzies/CJ Martin Fellow in the laboratories of Professors Tony Green and Bertie Gottgens. He returned to Sydney in 2008 to set up a research program in stem cell biology, cancer, and tissue regeneration as a clinical academic at UNSW and POWH. He is a Fellow of the Royal Australasian College of Physicians and Royal College of Pathologists of Australasia.
Abstract
This lecture will cover three research vignettes- (i) the control of endothelial to haematopoietic transition and emergence of blood stem cells in the embryo (Chandrakanthan et al Nat Cell Biol. 2022; doi: 10.1038/s41556-022-00955-3), (ii) the regulation of haematopoietic stem cell differentiation in post-natal life (Subramanian et al bioRxiv 2023; doi: 10.1101/2023.04.18.537282) and (iii) the contribution of mutant blood stem cells to immature and mature cells in myelodysplastic neoplasms (Schnegg-Kaufmann et al Blood 2023; doi: 10.1182/blood.2022018602).
ALL ARE WELCOME
Should you have any enquiries, please feel free to contact Miss Angela Wong at 3917 9216.