Start main content
Back
Dec 17, 2021
Press Release: Three HKU project teams win two Gold one Bronze at the Quacquarelli Symonds (QS) Reimagine Education Awards 2021
Press Release (2021-12-17):
Source: Three HKU project teams win two Gold one Bronze at the Quacquarelli Symonds (QS) Reimagine Education Awards 2021 - Press Releases - Media - HKU
Three HKU project teams win two Gold one Bronze at the Quacquarelli Symonds (QS) Reimagine Education Awards 2021
Three project teams from The University of Hong Kong (HKU) celebrate victorious achievements at the QS Reimagine Education Awards 2021. Two teams have won Gold in the category of life sciences and hybrid learning, while one team won bronze under ICT Tools for Teaching, Learning and Support.

Recognised as the 'Oscars' in Education, the Reimagine Education Awards' extended panel of over 200 international judges select winners with innovation, scalability, efficacy, and uniqueness as the criteria of achieving outstanding standards.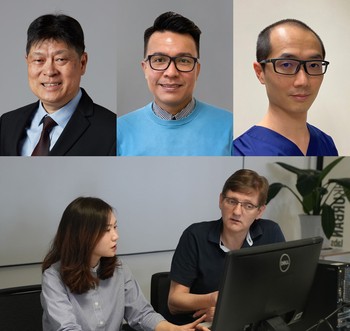 First row from left : Dr George Lim Tipoe, Dr Fraide A. Ganotice Jr., Dr Ming-Yen Ng ;
Second row from left: Ms Lynn Hanyuning Lin, Mr Mathew Robert Pryor
---
Congratulations to Dr Geroge Lim Tipoe from our school who has been awarded the 2021 QS Reimagine Education Gold Award (Hybrid Learning) and his award winning project is:

Project title: Breaking disciplinary Silos with Interprofessional Education and Collaborative Practice (IPECP): An e-Mart approach
Representatives: Dr George Lim Tipoe, Dr Fraide A. Ganotice Jr.
Using team-based case-oriented discussion that is facilitated by Open edX with learning analytics, the IPECP programme provides opportunities for students from 12 programmes in six Faculties to learn about, from, and with one another. The programme prepares students in health-related disciplines with skills to provide future quality care, even in times of health crisis.
For the full list of Team Content Experts, please click here.

More information about the QS Reimagine Education Awards: https://www.reimagine-education.com/