Start main content
Back
Dec 12, 2020
Congratulations! Mr Yeung Lo and Lin Wang have been awarded the 1st Prize and Grand Prize in 6th HKU Student Innovation and Entrepreneurship Competition
We are pleased to announce that Mr Yeung Lo and Lin Wang, our PhD candidates, have their project "Highly sensitive, adaptable synthetic antibody based biosensor for infectious diseases" awarded 1st prize (30 Sep, 2020) and grand prize* (12 Dec, 2020) in the 6th HKU Student Innovation and Entrepreneurship Competition.
Infectious diseases such as malaria and the current COVID-19 pandemic have highlighted the importance of rapid, accurate diagnostic testing. Therefore, they have worked to integrate nucleic acids, electrochemistry and engineering approaches to tackle this need.
They have developed a novel and highly sensitive DNA-based electrochemical biosensing platform that allows for the instantaneous detection of malaria proteins in blood. By utilising DNA's natural ability to bind to its target and change shape, the biosensor is highly sensitive, stable, and re-useable, yet low costing. This novel platform, which won First Prize in the Life Sciences category, is envisaged to be easily adapted towards detecting many other infectious diseases in the future.
Congratulations to Yeung Lo and Lin Wang!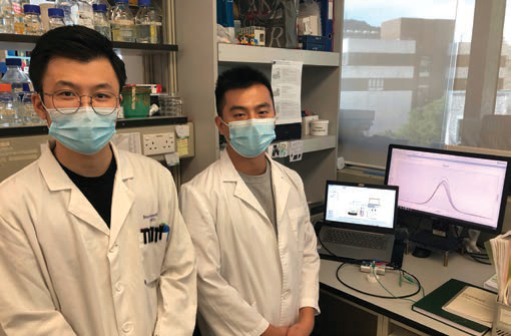 (Left: Lin Wang; Right: Yeung Lo)
Snapshots of the award ceremony is available here.
---
* "Grand Prize" is a follow-up from the previous "First Prize - Life Science category". All first prize winners in each category would go through a final round of presentations and Q&A on their project, and the best among all of them would be awarded the Grand Prize.