Start main content
Back
Dec 08, 2022
Dr. Stephanie Ma was presented with Croucher Senior Research Fellowship 2023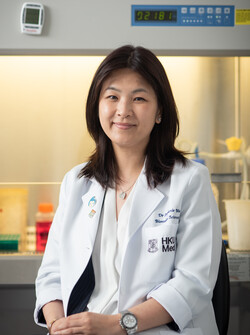 Congratulations to Dr. Stephanie Ma, awardee of Croucher Senior Research Fellowship 2023.
Details: https://projects.croucher.org.hk/news/croucher-honours-innovators-and-scholars-in-awards-nbsp-ceremony-nbsp

Dr. Stephanie MA, Associate Professor, School of Biomedical Sciences, LKS Faculty of Medicine, HKU
(Please click here for Dr. Stephaine Ma's biography)
Ma's research focuses on understanding how phenotypic plasticity and cancer stemness contribute to therapy resistance and tumour recurrence, primarily using liver cancer as a model system. Her team has contributed to the identification of liver cancer stem cell markers, intrinsic regulators and signalling pathways as well as the role of various tumour microenvironmental factors in allowing tumours to maintain a more stem/progenitor state. With the Croucher Senior Research Fellowship, she and her team will explore the mechanisms of T-cell immune evasion and their link with cancer stemness in liver cancer by employing interdisciplinary approaches that cover CRISPR screening, high-throughput organoid-based immune-drug profiling, and single-cell/spatial transcriptomics.