Start main content
Bachelor of Biomedical Sciences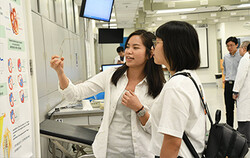 The BBiomedSc curriculum is designed with the aim of achieving a balance of structure and flexibility, so as to accommodate the increasing needs for students to plan for a study programme straddling sciences and humanities.
Students are required to complete 240 credits of courses throughout the 4-year curriculum:
structures and functions of the human body and the processes that are essential to life;
basic principles of the processes, mechanisms, patterns of diseases and concepts of therapeutic strategies; and
essential analytical methodologies and the state of the art of contemporary information technology skills in the field of biomedical sciences
Student will have different types of learning experiences, including traditional lectures, laboratory practicals, problem-based learning tutorials, web-based learning, as well as research projects.
Introductory Level Courses:
The introductory courses consolidate students' knowledge of anatomy, human biology, human physiology, biochemistry, and pharmacology which are all necessary to understand the basis of human biology and processes that are essential to life.


Course code
Title
Course Co-ordinator(s)
Credits
Year of study
Students are required to complete the following Foundation Courses:
BBMS1001
Introduction to Human Anatomy and Physiology
Dr ML Fung/ Dr Jada Lee
6
1
BBMS1003
Perspectives in Biochemistry
Professor Julian Tanner
6
1
CHEM1042/
CHEM1041
General Chemistry I/ Foundations of Chemistry
Dr Pui Ling Tong
6
1
BBMS2013
Biomedical Statistic (to be effective from the academic year 2024-2025)
TBC
6
2
plus the following Laboratory Courses:
BBMS1011
Fundamental Biomedical Laboratory Techniques
Dr Masayo Kotaka
6
1
BBMS2001
Basic Biomedical Laboratory Techniques
(to be last offered in the academic year 2023/24)
Dr Brian Wong
6
2
BBMS3004
Molecular Diagnostics Laboratory
Dr Carmen Wong;
Dr Joanna Ho
6
2/3/4
plus any four of the following courses:
BBMS2004
Human Anatomy
Dr ALM Cheung/ Dr. Rong Liu
6
2
BBMS2005
Biomedical Pharmacology
Professor A Xu
6
2
BBMS2006
Physiological Basis of Health and Disease
Dr ML Fung
6
2
BBMS2007
Essential Molecular Biology
Dr Jeff Ti/ Dr Chul Kwon
6
2
BBMS2009
Introduction to Clinical Research
Dr Helen Zhi
6
2
BBMS2003
Human Genetics
Dr YQ Song
6
2
BBMS2010
Fundamentals of Clinical Trial Management
TBC
6
2/3
BBMS2011
Research Methods in Medicine and Health Sciences
Professor Benjamin John Cowling/ Dr Bingyi Yang
6
2/3
EXSC2003
Exercise Physiology
Dr Parco Siu
6
2
EXSC2008
Physical and Health Benefits of Exercise
Dr Youngwon Kim
6
2/3

Advanced Level Courses:
The advanced courses provide students with a foundation in the cellular, molecular and genetic basis of human diseases, as well as strategies for diagnosis. The Final Year Project constitutes capstone experience for students, allowing them to integrate their knowledge and to apply experimental and informatics skills to solve defined problems by research.


Course code
Title
Course Co-ordinator(s)
Credits
Year of study
Students are required to complete one of the following course of the advanced level:
BBMS4001
Final Year Project
Professor DY Jin/
Dr Bonny Yuen
12
4
BBMS4012
Innovation Team Project (from 2022-23)
Dr Masayo Kotaka
12
4
plus any four of the following courses:
BBMS3001
Medical Microbiology
Dr RYT Kao
6
3/4
BBMS3002
Molecular Biology of the Cell
Professor MSY Huen
6
3/4
BBMS3003
Mechanisms and Pathology of Diseases
Dr Carmen Wong;
Dr Heidi Ling
6
3/4
BBMS3005
Infection and Immunity
Professor ZW Chen
6
3/4
BBMS3007
Cancer Biology
Dr LWT Cheung
6
3/4
BBMS3008
Essential Proteomics
Dr M Kotaka
6
3/4
BBMS3009
Genome Science
Dr Joshua WK Ho
6
3/4
BBMS3010
Emerging Infections
Professor HL Chen
6
3/4
BBMS3011
Molecular Neuroscience
Professor YS Chan;
Dr Cora Lai
6
3/4
BBMS3012
Stem Cell Biotechnologies in Regenerative Medicine
Dr Elly Ngan/ Dr Martin Cheung
6
1
BBMS3018
Biomechanics and Biomedical Technologies
Dr Michael Manio
6
3/4
BBMS4003
Developmental Genetics
Dr Mu He
6
1
BBMS4005
Biopharmaceutical Research and Development
Professor Yu Wang
6
1
BIOC3605
Sequence Bioinformatics
Dr BCW Wong
6
3/4
BIOC4612
Molecular Biology of the Gene
Professor KSE Cheah
6
3/4
EXSC3002

Advanced Exercise Physiology

Dr Parco Siu
6
3/4
EXSC3014
Rehabilitation Science
Dr T Wong
6
3/4
EXSC3018

Biological Basis of Exercise and Health

Dr Parco Siu
6
2
EXSC3019

Exercise and Chronic Diseases

Dr J Zhang
6
3/4
Students are required to complete 6 Common Core courses, 6-credit each, at least one and not more than two courses from each Area of Inquiry (AoI), within the first and second years of study.
| Course code | Title | Course Co-ordinator(s) | Credits | Year of study |
| --- | --- | --- | --- | --- |
| CAES1000 | Core University English | English | 6 | 1 |
| CAES9722 | Academic English for Biomedical Sciences Students | English | 6 | 2 |
| CEMD9008 | Practical Chinese for Biomedical Sciences Students | Chinese | 6 | 1 |

Apart from the courses listed above, students can plan their study with the remaining credits. They may opt to take a minor or electives offered in the BBiomedSc curriculum or other curricula, subject to constraints and approval of the host faculties.
| Course code | Title | Course Co-ordinator(s) | Credits | Offering Semester in 2023/24 |
| --- | --- | --- | --- | --- |
| BBMS1003/ BIOC1600 | Perspectives in Biochemistry | Professor Julian Tanner | 6 | Semester 1 |
| BBMS2003 | Human Genetics | Dr YQ Song | 6 | Semester 2 |
| BBMS2007 | Essential Molecular Biology | Dr Jeff Ti/ Dr Chul Kwon | 6 | Semester 1 |
| BBMS3007 | Cancer Biology | Dr Lydia WT Cheung | 6 | Semester 2 |
| BBMS3008 | Essential Proteomics | Dr Masayo Kotaka | 6 | Semester 2 |
| BBMS3009 | Genome Science | Dr Joshua WK Ho | 6 | Semester 1 |
| BBMS4003 | Developmental Genetics | Dr Mu He | 6 | Semester 1 |
| BIOC3605 | Sequence Bioinformatics | Dr Brian Wong | 6 | Semester 2 |
| BIOC4612 | Molecular Biology of the Gene | Professor Kathryn Cheah | 6 | Semester 2 |
| BBMS4004 | Public Health Genetics | - | 6 | Not offered in 2023/24 |
| BIOF3002 | Genome Sequencing and Analysis | Dr Jason Wong | 6 | Semester 1 |
| Course code | Title | Course Co-ordinator(s) | Credits | Offering Semester in 2023/24 |
| --- | --- | --- | --- | --- |
| BBMS1001 | Introduction to Human Anatomy and Physiology | Dr ML Fung/ Dr Jada Lee | 6 | Semester 1 |
| BBMS2005 | Biomedical Pharmacology | Professor A Xu | 6 | Semester 2 |
| BBMS2008 | Contemporary Topics in Biomedical Technology | Dr Ralf Jauch | 6 | Semester 2 |
| BBMS2009 | Introduction to Clinical Research | Dr Helen Zhi | 6 | Semester 1 |
| BBMS2010 | Fundamentals of Clinical Trial Management | - | 6 | Not offered in 2023/24 |
| BBMS3012 | Stem Cell Biotechnologies in Regenerative Medicine | Professor Elly Ngan/ Dr Martin Cheung | 6 | Semester 1 |
| BBMS3018 | Biomechanics and Biomedical Technologies | Dr Michael Manio | 6 | Semester 1 |
| BBMS4005 | Biopharmaceutical Research and Development | Professor Yu Wang | 6 | Semester 1 |
| BIOL2409 | Biotechnology Industry and Entrepreneurship | Dr W B L Lim | 6 | Semester 2 |
| BMED4604 | Cell and Tissue Engineering | Professor Barbara Chan | 6 | Semester 2 |
| Course code | Title | Course Co-ordinator(s) | Credits | Offering Semester in 2023/24 |
| --- | --- | --- | --- | --- |
| EXSC2003 | Exercise Physiology | Dr Parco Siu | 6 | Semester 1 |
| EXSC2007 | Exercise Prescription and Training | Dr David Montero | 6 | Semester 1 |
| EXSC2008 | Physical and Health Benefits of Exercise | Dr Youngwon Kim | 6 | Semester 1 |
| EXSC2009 | Exercise Biomechanics | - | 6 | Not offered in 2023/24 |
| EXSC2010 | Measurement and Evaluation of Physical Activity | - | 6 | Not offered in 2023/24 |
| EXSC3017 | Nutrition for Exercise and Health | Dr David Montero | 6 | Semester 2 |
| EXSC3018 | Biological Basis of Exercise and Health | Dr Parco Siu | 6 | Semester 2 |
| EXSC3019 | Exercise and Chronic Diseases | Dr Joni Zhang | 6 | Semester 2 |
| BBMS1001 | Introduction to Human Anatomy and Physiology | Dr ML Fung/ Dr Jada Lee | 6 | Semester 1 |
| BBMS3018 | Biomechanics and Biomedical Technologies | Dr Michael Manio | 6 | Semester 1 |